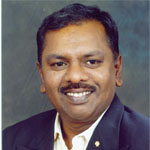 "Focus on simplicity in providing technological solutions to business needs"

VC Kumanan
Senior Director, IT
IDFC

Kumanan joined IDFC in 1998 and set up the IT Department that serves the organization to harness information technology to meet the business ends. He conceptualized, designed and implemented the complete IT infrastructure & Applications with a lean internal team. He is a graduate of maths & did his post graduation in Business Management from BIM, Trichy. He is also a qualified CISA, CISM, CEH (Certified Ethical Hacker) & Lead Auditor ISO 25999 (Business Continuity Management System).

Challenges in technology to meet enterprise needs in 2013 and expectations

CIOs today are grappling with issue related to managing user expectations. I think a major challenge is increasing use of mobile devices and the user preference to bring their own devices. A comprehensive framework needs to be adopted to ensure coverage across platforms and address issues associated with information leak and network security. It is imperative that security stays above user convenience in such an initiative.

A solution that will embed security with convenience will ultimately increase efficiency, improve productivity, help in innovation with improved collaboration and lead to an enhanced experience for users.

The areas in business environment where solutions do not yet exist or not up to the mark, and which if existed, would've made job easier

Information security undoubtedly is one of our primary concerns, the other being able to provide business beneficial analytics.
Changing technologies and increasing reliance on technology is also taking information security related incidents to a never seen height. From APT's to rampant hacking attempts to internet reputation with the spread of social media is keeping us wondering if we are doing enough to take care of our information assets. The speed at which newer threats emerge and the fear of unknown can also not be ignored. Comprehensive information security enterprise architecture is the need of the hour.

We need to be able to collect, store and analyze large volumes of data from across the length and width of the organization and market. The ability to do this well, will help the organization to extract the best insights and make the most agile decisions.

Technology trends impacting enterprise business environment

We are keenly watching developments in the network space. Networks are all pervasive and are a fabric that connects everyone and everything. As the numbers and varieties of devices connecting up to the network increases, central management of network at a granular level will be the key. Application aware networks will ensure that the priority is actually given where it is needed most, and this can be dynamically and automatically be changed depending on the changing needs of business.

The other aspect which we would really like to work upon is our greening exercise- a cost effective method to reduce our consumptions and create that awareness in a sustainable way.

My roles and responsibilities as a CIO

The role of a CIO have undergone a metamorphosis- from being a technical solutions provider to business enabler. Going forward with changing business needs, a CIO must lead the team in the face of these changes.

Lessons learned and advice for fellow CIOs

I would like to touch upon three aspects
I) To establish the business connect, to be able to understand business and give solutions that are fit for purpose are the key. CIO should be able to bind technology and business to create an environment of growth and innovation.
2) Focus on simplicity in providing technological solutions to business needs.
3) CIO's should be strategic in thought process to see business benefit and he should also be focused on detail.