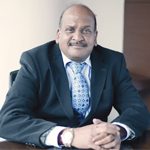 "Data on the fingertips is what the business seeks"

Srinivas Tata
CIO
Essar Projects (India)

Srinivas heads IT function as Chief Information Officer (CIO), Essar Projects consisting of 13 legal entities and 10 SBU's spread across 15 major sites in India and overseas. He has done B Tech (Electronics and Communication) from SV University, Tirupathi and MBA (Administration) from Jamnalal Bajaj Institute of Management Studies, Mumbai.

With over 22 years of experience in the field of Software Development, IT Infrastructure Management, Program Management, Process Improvement and IT roadmapping, Srinivas has worked with various organizations like Indian Navy, Kinetic Engineering, Easy Call Paging Company, Transamerica Apple Distribution Finance. He joined Essar Projects from Lear Corporation, Fortune 150 American Multinational, where he was heading the IT services as CIO.

Challenges in technology to meet enterprise needs in 2013 and expectations

Big data, analytics and collaboration is what we are seeing the future into.

Interactive decision making is a crying need- Business wants to have quick informed decisions backed up with data. The leadership today likes to have meetings and discussion on the data, with the ability to strategize and formulate a business plan with the help of real numbers and avoid delays like "Will get back to you with information". With an enterprise of our size and complexity, big data and analytics are the next big thing on our plate.

We are actively pursuing the cloud migration and mobility solutions as a priority item. Social collaboration and unified communication is what our HR is excited about.

The areas in business environment where solutions do not yet exist or not up to the mark, and which if existed, would've made job easier

Reliable data is a perennial need. While the ability to preempt or forecast a risk is what each business needs, any system would bank on availability of clean, reliable data.

Another need, typical to us is we being a projects company, adoption and value realization of application is extremely critical. Our situation unlike a manufacturing business, the need for automation and defined processes is unquestioned and inherent for smooth operations. Value Proposition to IT Projects needs to be bought- in at all levels- management to the ground for a success. It is very easily possible to get out- gunned or overrun by a Business Projects which would result in direct benefit to the core business of constructing a refinery or a steel plant.

Technology trends with significant impact on enterprise business environment

Data on the fingertips is what the business seeks. Technology usually is a mixed strategy– be it Analytics, Mobility, High Performance in- memory computing. We see a lot of thrust on Informed decision making and dash boarding from businesses, all top management is addicted to snapshots of their domain and the company to make decisions. Their appetite to consume and utilize reports and dashboard is driving the technical teams crazy! Which of course is a blessing in disguise for us, we are changing the face of IT, from being an enabler to being the differentiator.

At Projects, we are looking at a breakthrough to be able to help our businesses with Geo Spatial Solutions- Our projects run at various sites (high sea and other unexplored areas) and locations (most of them being remote and low connectivity areas). Terrain and Surface Analysis, Geo Visualization, Visual imaging to capture project progress are some of the areas that is finding great fervor in my CEO's eyes.

We believe- Innovation is inevitable!

Views on changing role of CIO

"Progress is a nice word. But change is its motivator. And change has its enemies."- Robert Kennedy

Today this small IT division which was looked at as a cost Centre is turning out to be a proud showcase of the company's processes and automation, to the external world. We find a conscious mention of the IT competency, application and infra landscape in all our BID documents etcnot as a facilitator but as a differentiator.

The CEOs of today want to discuss the IT adoption and the plan for new initiatives. We see this as a big win! CFOs look upto to us for the reliable data and the analysis to facilitate their day to day as well as strategic decisions.

COO's are hooked on to the collaboration and other software to get updates from sites and to get their ratios in place.

Having said that, can't forget Robert Frosts golden wordsthere are surely miles to go before we sleep!

Lessons learned and advice for fellow CIOs

Engage constantly with the business, be in line with the ground realities and address problems that the business wants a solution to.

Look for value that the business derives out of the IT projects, your projects will then automatically be adopted and owned by the right guys.

Let's accept it, no system or solution will find fancy in the eyes of the business unless and until he/ she is convinced on the 'What's in it for me!' and once that agreement is in place, then what will ever stop him from latching on the project and calling it his own.