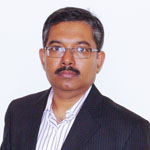 "Spending good amount of time with various functions within the business is an absolute necessity for a CIO to deliver better"

Subrata Dey
EVP-IT
Godrej Consumer Products Ltd.

Subrata has over 23 years of experience in IT management. He started his career with Jenson & Nicholson and later moved on to work with Lipton, Brook Bond Lipton and Hindustan Unilever before joining Godrej Sara Lee in 1998. Presently, he is designated as the EVP-IT of Godrej Consumer Products Ltd.


Challenges in technology to meet enterprise needs in 2013 and expectations

In my mind the biggest challenge in technology today is that many of the IT solutions deployed by businesses are not simple, user friendly and intuitive; although they may be technically robust at the back end. End users want ease of use, limited training inputs and minimal intervention of IT personnel, when using technology. All the new generation IT applications and solutions will have to address these needs. Simply speaking, I look forward to technology solutions which can be deployed quickly and easily, where business benefits can be made visible quickly.

The areas in business environment where solutions do not yet exist or not up to the mark, and which if existed, would've made job easier

I believe that there are always improvement opportunities and that will always remain. Business will be complex, therefore no single IT solution will meet all its requirements. You will have different IT applications and systems to meet different needs of the business. Seamless integration of multiple IT applications and platforms will be a challenge. I would prefer to see solutions which offer quick integration capabilities and offer higher flexibilities and good response time.

Technology trends impacting enterprise business environment

1. Business Intelligence and predictive analysis
2. Mobility solutions

My roles and responsibilities as a CIO

The CIO role has changed over the years and it has changed for the better, as currently CIOs are focusing more on the business value creation when considering any investments in IT. The current generation CIOs now need to focus more on business challenges and innovative solutions to simplify business processes, improve productivity and information availability.The CIOs do not need to spend much time in support activities, such as hardware/ network or even day-to-day application support activities, as those are mostly outsourced. In few companies the CIOs have also taken additional responsibility, which has given them better business perspective and understanding which in turn helped them to contribute better. From my personal experience I can definitely say that with 2.5 years of additional responsibility of managing supply chain and logistics function, along with IT in Godrej in between has helped me learn and understand the business operations and therefore appreciate the IT needs better.

Lessons learned and advice for fellow CIOs

Strong business knowledge is the key for a CIO. The CIO needs to have a good understanding of various business processes, apart from having good knowledge and understanding of technology. Therefore spending good amount of time with various functions within the business is an absolute necessity. The CIO needs to develop a good network with his peers in other functions of the business, which will help drive various business- IT initiatives. In the technology field things change very fast. So keep an open mind for learning. In many areas, IT is becoming
a commoditized service and therefore when it works fine, you may not get appreciation but when it does not work, you will definitely face criticism. Therefore, you ought to be ready to accept it. Use every interaction with your people as an opportunity to get new idea as last but not the least; develop a strong relationship with your systems integrators/ partners, as their expertise and knowledge is necessary for you to deliver better.