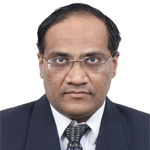 "There is always a mid path available to bring in win-win situations, both for you & the customer."

Ravishanker N
CIO
Tata Sky

A Chartered Engineer by profession, Ravishanker has over 23 years of experience and he is currently associated with Tata Sky as its CIO. Prior to Tata Sky, he was associated with large telecom and financial industries.

Challenges in technology to meet enterprise needs in 2013 and expectations

Drive simplicity– The way the DTH package construct is in terms of offerings– it poses lot of challenges to put this piece together. The complexity it drives like configuring broadcaster channels/ bouquets/ al-a-carte/ price protection to suit regulatory requirements/ keep lock in for a particular period of time to prevent misuse/ Video on Demand/ PPV movies– blend of some of the items that I have narrated earlier makes DTH stack very complex. The need for a solid headless configurator which can be accessed across various self service channels is the need of the hour.

The areas in business environment where solutions do not yet exist or not up to the mark, and which if existed, would've made job easier

Application Performance Monitoring: We are in the business of doing 'real time' transactions. We have impatient customers, so I keep telling my colleagues–'our response time' needs to be faster than an ATM which dispenses cash. Given the complexity that it works, tightly coupled with several applications, keeping a transaction monitoring across the enterprise is imminent.

Monitoring third party transactions: We have several self-service channels coming to the enterprise from other telecom service providers like SMS/ USSD. Lot of times, we receive flak since the messages don't hit the enterprise. It's a huge challenge to get this right. Similarly, payments through gateways/ aggregators need to be stitched well.

Technology trends impacting Enterprise Business Environment

The evangelism of Open Source Technologies. It's something which would be a game changer, if adopted and embraced well. We have already seen some traction here.

My roles and responsibilities as a CIO

Ensuring our frontline people win the market place– be with them and solve business issues. Go to the end customer/ distributors/ retailers to check opportunities of bringing efficiency and improving productivity. In one line– help contribute positively to the P&L. Converting potential threats into opportunities by engaging with various stakeholders.

Lessons learned and advice for fellow CIOs

a) Be part of the solution– not the problem. One of the biggest cribs from business teams which we hear often is that, we are limited by IT– But I assure, there is always a mid path available to bring in win- win situations both for you and the customer.
b) Ability to take risks- Most of the IT suffers because there is no clarity of requirements and the IT team takes 'insurance' under the aegis of business teams. It's time– they come out of this shell.
c) Getting the big picture right– Lot of people don't get the 'forest picture' right and straight away talk about the trees and the leaves associated with it.