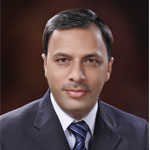 "In manufacturing segment changing technologies frequently becomes a pain point"

Pertisth Mankotia
Head IT
Sheela Foam (Sleepwell)

Pertisth has more than 17 years of experience developing and executing IT strategies. He has established a record as a leader & business partner who collaborates with other executives to use technology to transform and simplify business processes. He has received many National and International awards for innovations.

Challenges in technology to meet enterprise needs in 2013 and solutions

The biggest challenge is network. The connectivity and infrastructure is not very good. Although improvements have been made, it is not up to the mark. These are certain challenges that are not in your control. We are dependent on service providers, and we cannot have our own connectivity. The connectivity glitches do take place and this has to come smooth. Other challenges are within your control.

The areas in business environment where solutions do not yet exist or not up to the mark, and which if existed, would've made job easier

If there is a problem, you have to find a solution. I don't think there is a problem that is unresolved. Few problems do come like the technology advancement is really fast. And especially in manufacturing segment you can't change technologies so fast, that becomes a pain point.

Technology trends impacting enterprise business environment

We use latest trends and they are in line with business needs. As far as Sheela Foam is concerned technologies used include cloud computing, mobility, virtualization, business analytics on mobile and open source. Open source brings down the cost and we ensure that productivity is not hampered. Open source is used maximum at the data centre side.

My roles and responsibilities as a CIO

CIO is an ideal position to take increasing business responsibility and control. CIO must step out and should think of creating space to innovate. A CIO understands the business very well and the innovation can be brought by him. He is the nervous system. He integrates all functions and it's not just technology. I spend just 5 percent of time on technology as it is easily available and you can outsource it. A CIO is the one and only resource that can build the organization by synchronizing people.

Lessons learned and advice for fellow CIOs

There are plenty of problem to be solved in the organization; this means there are lot of opportunities. CIO's have to look around with an open mind to find the solution to these problems. To be a successful CIO; one should be humble. When a good job is done or a good process gets implemented, always find the person from the functional side of business and give him the credit. I have followed a statement by Narayan Murthy – "Whenever I do a good job I open the window and see whom I can pass the credit to and whenever I go wrong I go look into the mirror and see where I went wrong."

The credit of success should always go to the team and business users. This not only motivates the team but also strengthen inter- personal relationship. A CIO should be focused, self- motivated and agile which will enable him and his team to perform. A CIO can bring in lot of changes in the organization. A CIO should act as a business transformer, who can turn- around the business. On the innovation front, a CIO should focus on simplifying processes and bring in value to the business.