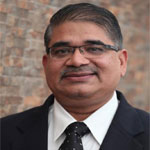 "People with only organizational capability and strategy will find it difficult to execute; and people only with execution capabilities will not have conceptual ability to strategize"

Mukund Prasad
Director – Group HR,
Business transformation & Group CIO
Welspun Group

Mukund has done extensive work in areas of Business transformation, Corporate strategy, HR & IT strategy, Change Management and Organization
Development in multi cultural business environments with large MNC's and Indian organizations.

Challenges in technology to meet enterprise needs in 2013 and expectations

"Complete technology enablement of business." From a business process perspective, every technology leaves something out, which gives room for challenges that result in less return on investment. In many cases, business processes are also not matured to use the technology that exists, because there is a certain way business processes has to work. However, the technology enablement of these processes will work wonders. Both these things have to go hand in hand.

There are also new challenges from the multifold increase in mobile usage. Mobile adoption benefits are very clear. But the challenges they pose are too many such as mobile device management, having clear cut policies for personal and official usage, downloads from multiple sites, licensing and security issues and threats related to it.

Another area is business intelligence analytics, which has not yet reached the level of maturity it promised. There should be a proper understanding of real usage of analytics by businesses. It has to scale up to meet massive growth requirements including growth in data size.

The areas in business environment where solutions do not yet exist or not up to the mark, and which if existed, would've made job easier

As far as data is concerned, at the end user level, security issues like data leak protection; web filtering is a matter of concern. In the present scenario, making any enterprise fully information secured is not possible. It's a journey of prioritization, implementation, utilization and effectiveness of investments. Securities in areas like BYOD, mobile device management, or even data going out from organization are to be addressed with a proper strategy.

Technology Trends Impacting Enterprise Business Environment

We are working on defined IT strategy this year including supply chain optimization solutions, Business analytics and executive dashboard. There are many trends like IT enabled shared services, mobile computing, and creating proper policies for BYOD and mobile device management, which will have an impact.

My roles and responsibilities as a CIO

A CIO has to have a very good grip on technology and business to talk in the language of the business. It's not merely the automation of the process that technology provides, but also how to handle something which is not automated.

Today, CIOs role is a merger of technocrat and business expert. The ability to adapt to business process is actually going to decide on how effective a CIO is going to be.

Lessons learned and advice for fellow CIOs

The foremost thing is to create awareness on how IT is performing across the organization. There should also be a combination of strategy and execution. People with only strength and strategy will find it difficult to execute; and people only with execution capabilities will not have conceptual ability to strategize. So it is important that in addition to understanding the business, CIOs should also understand the elements of strategy and execution. Both have to be developed for them to grow in the level of a CIO and beyond CIO.