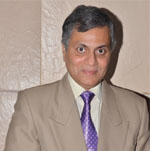 "Personal cloud will make CIO take a driver's seat in the organization."

Anil Nadkarni
Global CIO
Thermax

Anil is a Management post graduate from Mumbai University. Anil has 28 years of IT experience. Anil began his career with Cadbury India Ltd. To his credit Anil has delivered lectures in various forums on subjects like communication, ERP, IT strategies not just in India but abroad as well. Anil works for Thermax Limited as their Global CIO.

Challenges in technology to meet enterprise needs in 2013 and expectations

There is a lot of influx of various technologies. In fact all of us are surrounded by so much technological revolution that we are unable to decide what is right for me/ organization. What the organizations expect CIO is to play a role of moderator i.e. a person who can understand business critical needs (with the given pressure of slowdown and negative sentiments) and provide an amicable mix of technology that will sustain today's sluggishness but will also allow organizations to move into top gear when things turn around.

The areas in business environment where solutions do not yet exist or not up to the mark, and which if existed, would've made job easier

The technology solution are as good they are adopted and accepted by the organizations. No solution is picture perfect. But it is organizations ability to understand the drawbacks of the solution and quick adoption to work around. It is also imperative to understand the needs of the organization structure at various levels. Providing the right piece of solution helps in reducing the pain. I believe, people believe what they see, so the technology ought to give them that feel/ comfort. The newer techniques like big data are trying to consolidate organization scattered data points.

Technology trends impacting enterprise business environment

The BYOE (Bring Your Own Everything) is going to radically change the way business will be monitored in future. We have seen clear waves of brick and mortar and virtual businesses. Today what we see is an amalgamation of both these models. The businesses have accepted them as their channels of transaction. Now that the channels are set what BYOE will ensure that the organization will concentrate more on customer and are less worried about the internal needs. They will now be able to spread their wings into areas where they did not venture earlier. The other technology that will help the organization is to reach the customer at his/ her convenience i.e. customer will now decide when he/ she wants to deal with. I believe the cloud will play a major role in this march. I believe the day is not far when a person is attached to a cloud all through 24 hrs. The cloud will do all the necessary contacts to ensure a worriless experience.

My roles and responsibilities as a CIO

CIO ought to be the conduit between business and technology. They can now drive the business initiatives in their own stride. The point I made above i.e. personal cloud will make CIO take a driver's seat in the organization. The other function will then have to provide the functional ammunition to CIO to drive forward. So the CIO mind set ought to change from a mere technology support to a business leader.

Lessons learned and advice for fellow CIOs

CIO ought to catch the pulse in and around him i.e. he ought to catch the technological innovation and ascertain its impact on the organizational environment. The CIO is now looked at as someone who will bring to business innovation using the right mix of technology and innovative solutions.