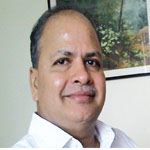 "While the mobile world is ripe with 'apps', there exist almost none for enterprises."

VVR Babu
SVP & CIO
ITC Infotech & ITC Ltd.

Babu joined ITC in 1979 and during his career in ITC, Babu has held many leadership positions. In his current role as the Group CIO, Babu is responsible for providing strategic IT leadership to the ITC Group.

Challenges in technology to meet enterprise needs in 2013 and expectations

The biggest challenge enterprises face today is the availability of IT technology specialists, who have deep business domain knowledge and are willing to take up end-to-end project execution responsibility. The consulting arms of technology partners provide technical expertise and some amount of project execution capabilities, but lack in domain experience. While the mobile world is ripe with 'apps', there exist almost none for enterprises. Enterprise IT vendors, such as SAP, Oracle, Microsoft developing 'Line of Business Apps', will be extremely beneficial for large organizations, as this will enable fast deployment of solutions.

The areas in business environment where solutions do not yet exist or not up to the mark, and which if existed, would've made job easier

In today's fast changing and dynamic business environment, solutions in the areas of electronic and mobile commerce, automated warehouse management, social analytics, big data analysis, etc. have become extremely critical to large enterprises. However, while these applications/ solutions are in the early stages of evolution and will take time to mature into stable products for widespread adoption, the need for such applications in the enterprise is very urgent. There are very few such global, but cost effective solutions with a strong Indian user base.

Business operations today are critically dependent on IT systems. Hence, availability of IT infrastructure during business operating hours is paramount. Last mile connectivity to the remote locations has become extremely challenging with the changed telecom scenario in the country.

Technology trends impacting enterprise business environment

ITC is aggressively extending its ITC footprint beyond organizational boundaries, to its extended ecosystem comprising of supply chain partners, retailers, NGO partners etc. with significant exchange of information. ITC is also setting up very large integrated warehouses across the country. Hence, in ITC, we would specifically benefit from mature solutions in mobility and cost- efficient automated warehouse management. Companies Bill 2012 now mandates that 2 percent of average net profit of organizations should be invested in CSR activities. This will give fillip to software product vendors to develop ERP- like solutions for managing sustainability and CSR activities in an extended organizational model with NGO partners.

My roles and responsibilities as a CIO

The role of the CIO over the last few years has drastically changed from being a provider of specific IT technology solutions that meet business' requirements. The CIO today has become
more of a Chief Integration Officer who is not only responsible for ensuring automation of critical business processes but also ensuring that the IT systems are coherent with and aligned to the overall business strategy of the organization.

Lessons learned and advice for fellow CIOs

The CIO in an organization today has a significantly expanded sphere of influence – far beyond that of managing IT in the enterprise. Thus, technological prowess and knowledge are not key skill sets of the CIO any more. There is also no substitute for strong understanding of business processes and operations. I genuinely believe that the CIO in future would be one who has the ability to network and build relationships with senior business users, thereby being in a position to influence business strategy.

In addition, the CIO should be a good communicator and team leader.