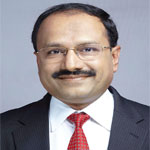 "Manufacturing organization are generally more brick & mortar oriented hence for them it is more challenging to absorb all the impacts of digital channel & its implicationsa"

Pratap Gharge
President and CIO
Bajaj Electricals

With 3 decades of rich experience in IT field, Pratap has played several roles starting from Programmer, Analyst, Systems Manager & HOD. Being a tech savvy he has successfully implemented many critical technologies in Manufacturing Industry.

Challenges in technology to meet enterprise needs in 2013 and expectations

Proliferation of the mobile devices would be one of the big challenges IT would be facing in year 2013. Nowadays people are going for various gadgets like Tablets, mobiles etc and asking IT to enable all the applications on these devices. How do we deliver all applications in secure way is going to be biggest challenge for all IT teams. Apart from this enabling all the employees with mobile applications, IT managers would be also challenged by how do we educate some of our marketing managers about digital medium for the marketing and how do we exploit the same. Big data is one more application coming in way of marketers to exploit the brand value in digital medium and also use analytics for improving the marketing outcomes. Manufacturing organization are generally more brick and mortar oriented hence for them it is more challenging to absorb all the impacts of digital channel and its implications.

The areas in business environment where solutions do not yet exist or not up to the mark, and which if existed, would've made job easier

Every technology evaluation brings new solutions and also new set of problems associated with the same. Hence there are always unsolved pain points with every new technology solutions and sometimes these solutions costs so much that justifying need for the same becomes extremely difficult. Skills set development with respect to new platform is one more challenge to keep it up and running. Justifying all these investments is most difficult part with proving business benefits.

Technology trends impacting enterprise business environment

Mobility trends are the most impactful on our business. Due to sudden mobile device proliferation, we have seen sudden demand on enablement of all the applications on mobile devices. All the young employees are expecting that their personal devices will be allowed to access all corporate applications. All top management is expecting that these corporate apps can be accessed on any mobile device. And hence we had implemented desktop virtualization using Citrix so that virtual desktops are possible to deliver on any mobile device and all the applications are possible to execute on any device from anywhere. The other trend is hinting towards social analytics.

My roles and responsibilities as a CIO

CIO role is becoming more business oriented. CIO and his team are normally having view of all the business processes. They play important role of automating most of the business processes and by virtue of the same, they are better placed to play a very important role of enterprise architect. They are aware of all the business process lacunas and where one can improve and become efficient. Hence CIO and his team have to play a contributory role to the business. They have to keep co- ordial relationship with all the business and functional heads and help them understand these business benefits. Some areas like digital marketing and e- commerce, CIO's can play vital role of educating their marketing counterparts about benefits of this new medium and new sales channel and how can we exploit it more using social platforms.

Lessons learned and advice for fellow CIOs

Normally any technology projects are for helping business and hence every IT projects should have some business benefits as a reason to start. Ultimately organization benefit is most important hence what is important is to achieve successful implementation of the project. Make business users owner of the project and let them define the business benefits from every project. Change management is normally difficult part in every project and hence unless business needs don't plan any IT project.