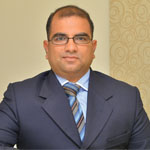 "When executive management hears a common and consistent
message jointly from the functional and IT units, they are in a much better position to get buy-in"

Shrikant Kadam
AGM-IT
Pratibha Group of Companies

Shrikant has an overall experience of 13 years in the IT industry with extensive exposure in IT Management & Planning. In the present company he is designated as the AGM-IT where he handles all IT related issues. He is an excellent communicator with leadership quality and management skills.

Challenges in technology to meet enterprise needs in 2013 and expectations

Technology has seen rapid changes in the modern era, and it has to be adaptable enough in the coming years as well. My wish list includes three major factors which would change the course of action for the enterprise.
• Lower cost
• Accessibility
• Flexibility

The areas in business environment where solutions do not yet exist or not up to the mark, and which if existed, would've made job easier

Information security is the most challenging IT issue in my opinion. That's because there is no magic- bullet solution and no way to ensure whether enterprise data and resources are truly secured. The list of brands and wellmanaged IT operations which have experienced embarrassing/ expensive/ harmful compromises is long and varied and crosses all industries and economic circumstances. The bad guys are smart, capable, persistent, highly motivated, world- wide, automated and 24/ 7. We are seriously out- gunned and the challenges can easily overrun our limited staff resources. However, there are effective counter- measures, but these can involve investing large amounts of money, can be highly intrusive and- as I noted- with
no guarantee of absolute success.

Technology trends impacting enterprise business environment

In today's highly competitive global environment, companies are looking for opportunities to minimize costs, increase efficiencies and gain competitive advantage. Business leaders across all industries are focused on IT as a way to accomplish these goals. The use of
emerging, disruptive technologies such as context- aware mobile apps and enterprise social networking along with the proliferation of public and private cloud is commanding organizations to assess and manage the impact these technologies may have on their business. Leaders should understand, prioritize and apply these new technologies within the context of their overall business goals.

Some technology trends which will have significant impact on enterprise business environment are public cloud infrastructure, digital delivery for product and services,data visualization, pervasive computing, private clouding, cyber security.

My roles and responsibilities as a CIO

Less of being a technical guru and more of taking a partnership focus with our customers. Our customers are more aware of how technology can help their operations and what their peers in other enterprises are doing. As the business climate has continued to be tight, we have been much more successful by going in jointly with our functional business partners and making a solid case together for investment of the limited funds available to the enterprise. When executive management hears a common and consistent message jointly from the functional and IT units, we're in a much better position to get buy- in.

Lessons learned and advice for fellow CIOs

Let me focus on three specific things. First of all, it's important to understand that it is a personal business. Credibility and track- record is everything. Secondly, being a reliable and a successful partner is a great way to build credibility. Thirdly, we have to stay up-to-date with the
innovative technologies. Furthermore, I need to make sure the IT organization is focused on delivering great customer service in a responsive and timely manner.