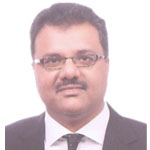 "Today we live in a heavily hyped world assuming IT can solve all business issues"

Ashok Cherian
CIO
JK Cement Ltd

Ashok has over 20 years of rich Leadership Experience in IT. Prior to joining JK Cements, Ashok held various positions including CIO at Whirlpool India Ltd and Head of IT Systems at Tata Tea Ltd. Having led multiple highly successful SAP ERP, Infrastructure as well as IT Strategy Projects, Ashok has been focusing on transforming IT to a key business differentiator role through Thought Leadership.

Challenges in technology to meet enterprise needs in 2013 and expectations

Every organization is looking forward to extract value and attain business differentiation leveraging data they already have. The need of basic analytics is shifting to predictive real time analytic capabilities with social connection. Big data also is expected to get more realistic and mature in 2013. Mobility is the next big time need but the availability of options and supply of talent continues to be challenging which needs focused attention by the providers and platform owners.The technology providers has to start thinking more for compatible standards and not let the user community struggle with interconnect issues for the sake of the providers strategy.

The areas in business environment where solutions do not yet exist or not up to the mark, and which if existed, would've made job easier

Technology and solutions seldom becomes challenges if you have spent the right amount of time and energy in selecting them. But the constant upgrades and platform changes consumes a lot of IT time. Today we live in a heavily hyped world assuming IT can solve all business issues. Expectation management, business engagement and change adoption continues to be the basic themes running in the backdrop. IT Talent with right attitudes and ownership as well finds its place in the key challenge hitting both the user companies and providers.

Technology trends impacting enterprise business environment

Mobility and new age CRM are going to drive significant connects with enterprise processes. They will take the business out of the office and will turn out to be a disruptive influence in the enterprise business domain. For the long term, I can clearly see Cloud catching up to become the next wave of IT revolution. As it matures and as adoption cross a threshold level, cloud computing will have far reaching consequences in the entire IT and corporate echo system.

My roles and responsibilities as a CIO

For me, the journey has been from a "service provider" moving towards a "strategic partner". With more areas of responsibilities getting directly linked to the company results, growth, agility and process excellence apart from the age old cost reduction agenda, the role demands more closer alignment with the business leadership. The role has clearly shifted from a technical role to a business enabler role needing much more business acumen and vision.

Lessons learned and advice for fellow CIOs

Managing change is at its best when you have the trust of the business. A similarity in vision and approach towards opportunities and challenges with that of business leaders is bound to deliver great results. Business driven IT demand management and continued proactive communication can create great platforms to perform. Keeping yourself close to the corporate priorities and creation of solutions focused on creating business differentiation will take the engagement to next level. Joint business value discovery of IT solutions and communication of the same helps in slowly getting rid of the "support" tag and embracing a "value creator" tag.