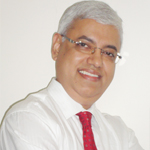 "Take a walk inside your manufacturing units, sales depots and walk the street with your sales people.You will learn a lot and you can provide great IT support."
Venkat Iyer
Global CIO
Wockhardt

Venkat has 25+ years of experience working in US and India in various businesses like Renewable Sources of energy (Solar & Wind), Office Equipments, Pharmaceutical, Automotive, IT services and Broadcast Media. My recent functional experience primarily has been in the area of IT. Management but have also worked in Sales & Marketing, Business processes, Logistics and distribution, Digital Marketing.

My roles and responsibilities as a CIO

During monthly reviews earlier we used to talk about system and network uptime etc. Today no one bothers. 100% uptime is taken for granted. More and more we are pushing our teams to understand the business better and see how we can help them to improve their business. Many of the functions still want IT to provide the data and analytical tools but not the analysis. I had the opportunity to run the logistics and distribution while I worked for another pharmaceutical company. With access to data and analysis had a great time fixing the business processes and reducing the cost of distribution.

Challenges in technology to meet enterprise needs in 2013 and expectations

Seriously I think that we have enough technology available and implemented. I wish we could extract more out of what has already been installed. We don't even use 50% of what has been implemented.

Technology trends impacting enterprise business environment

Sales force automation on the cloud especially for pharmaceutical companies is going to be of huge benefit. Currently most of the pharmaceutical companies' sales people update their daily doctor visits on the internet. Quite a few companies have moved or moving to handheld based devices to update the daily doctor visits almost on a real time basis. Also the sales ordering to a large extent is a paper based system which in all probability will move to an handheld based order taking like the FMCG businesses which will eliminate the manual process of data entry by the depots. Information retrieval with the use of SMS or missed call will be another bigger trend in 2013-14. Human based call centers will get affected.

The areas in business environment where solutions do not yet exist or not up to the mark, and which if existed, would've made job easier

Today we are in a position to give almost anything that the business is looking for. More and more IT teams are getting immersed in the business process and telling the user what more we can offer from the existing technologies so that it helps them to eliminate the manual processes and provide information on their finger tips.

Lessons learned and advice for fellow CIOs

Recruit and retain people who are smarter than you and with good attitude. Trust them and guide them like a friend. Listen to your teams. Build a culture where you convince your people or get convinced. Hierarchy should not decide the outcome of a discussion. Manage people but don't micro manage. Work at a strategic level and leave the day to day operation to your teams.

Build great professional relationship with your vendors/ partners and in turn they will support you 24x7. Meet at least 1 new vendor per week and keep an open mind. There is so much innovation happening outside your organization.

Take a walk inside your manufacturing units, sales depots and walk the street with your sales people.You will learn a lot and you can provide great IT support. Create an IT demand within the organization rather than pushing it down people's throats. People are very resistant to change.

If you are happy in an organization you will deliver very well and the organization benefits. If you are not happy, look for a change.