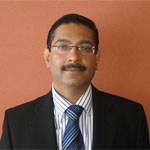 "CIOs should break down large projects in smaller achievable milestones so that deliverables are accomplished quickly."

Prakash Dharmani
Global CIO
Essel Propack Limited

Prakash is currently working with Essel Propack as Global CIO. He has 21 years of rich experience which primarily consists of working with largely diversified Essar Group & Reliance Industries Limited. During his tenure at Essar Group,Prakash worked as CIO for various verticals of Essar such as Power, Shared Services , Engineering and Procurement. Prior to Essar Group, Prakash spent around 14 years working Reliance Industries in various businesses such as Refinery, Logistics, Petrochemicals & handled cross functional roles like IT, Project Management and Manufacturing Operations.

Challenges in technology to meet enterprise needs in 2013 and expectations

Each industry has its own set of challenges. We are in packaging industry wherein we supply laminated and packaging tubes to FMCG, food and pharmaceutical companies for oral and non Oral care application. We are manufacturing more than 5 billion tubes per year and each tube needs to be tracked during manufacturing.
Major challenges faced by our enterprise are as follows:
a) Availability of end to end integrated supply chain solution right from managing demand planning, supply planning, inventories, and monitoring on time in full deliveries of finished goods to customer.
b) Data is growing day by day and we are trying to capture at the source, however getting meaningful information from data becomes big challenge. We need to develop Decision Support Systems which provide near real time dash boards and predictive analysis capabilities so that business can take better informed decisions.

The areas in business environment where solutions do not yet exist or not up to the mark, and which if existed, would've made job easier

An integrated system with cost effective solution which would capture data from multiple sources for e.g. plant machinery, ERP, and turn it around in near real time basis for analysis would definitely help our business to perform better. Another area where we are exploring solutions is in area of SCM which will help us in predicting demand, how much to produce and where to produce.

Technology trends impacting enterprise business environment

The trends that will have the most significant impact on our enterprise business environment are

a) How quickly we are able to analyze the big data which is growing at tremendous pace, the way we deploy and turnaround ERP/ applications
b) BI solutions having predictive capabilities
c) 3D printing technology

My roles and responsibilities as a CIO

I think our roles are fast changing and getting broader. Apart from technology the maximum amount of my time is spent on understanding business problems and providing technology solutions to the users. Another area we try to focus on is building IT road map and strategies so that enterprise is ready for future. To do that effectively, understanding of critical business processes is very important.

Lessons learned and advice for fellow CIOs

One of the most important aspects for a success of CIO is having good relationship with stakeholders and ability to communicate about the technology direction to peers. Second is getting business involved in roll out of IT projects. Many times IT projects are run in silo which is a sure shot recipe for failure. Last but not the least is the speed and agility in which we deliver the projects. We should break down large projects in smaller achievable milestones so that deliverables are accomplished quickly. No one has patience to wait for six months or longer to determine if project is going to be successful.