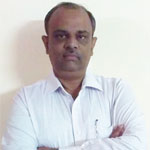 "Interact more with peers to get better insight of their functions & try to help them by providing low cost solution."

Neeraj Gupta
DGM-IT, Ballarpur Industries

Neeraj has varied knowledge & experience in various manufacturing domains of purchasing, inventory management, logistics, quality control & engineering. In his early days, he was associated with companies like HCL Limited & Panasonic AVC Networks.

He has been working in the capacity of DGM (IT) for last 6 years handling various On Line & Off Line Applications Support & Implementation of new initiatives, BI tool & managing various outsources activities partners in addition to procurement of IT related items & services.

Challenges in technology to meet enterprise needs in 2013 and expectations

Our end users are demanding. With the spread of mobile technology, they want to utilize their mobile devices for anything and everything from wherever they are. This needs to be done in a costeffective and successful manner. This is particularly challenging as our business climate has continued to be tight. Deploying mobility- based solutions which require different technology approaches costs is problematic. I would like mobility solution to be user friendly so that people at the level of distributors can enter their requirements easily.

The areas in business environment where solutions do not yet exist or not up to the mark, and which if existed, would've made job easier

In my opinion, stable network solution is a big pain point for us. Although technologies are available to provide enough and consistent band width but external environmental constraints like road cutting, network monitoring are some of the challenges which we face and gives us sleepless nights. To add to our wounds, high cost of scaling bandwidth and load balancer like technologies eat into our profits.

Technology trends impacting enterprise business environment

The use of social networking has been leveraged by many companies to promote and use it as selling tool. We would like to use this growing trend for our business promotions. It is well said that "Better late than never". We have already initiated a small project as way forward. Secondly, use of mobile apps for order collection and seamless integration is other advancement which we tend to exploit. This will not only improve our efficiencies, visibility but take us ahead of competition and customer satisfaction.

My roles and responsibilities as a CIO

These days' people are tech savvy. Gone are the days when users were dependant on IT for all solutions or details. Thanks to spurt of search engines. Hence the role of CIO has taken a paradigm shift from being an expert to businessman. CIO has started thinking in lines of a MD or Chairman to add value to company profitability. It may be in terms of managing IT systems effectively, bringing new technologies to improve efficiency and cutting Human Resource cost. Partnership with all stake holders is the key to role now. I have felt that people look to you as solution provider and not facilitator now. In all key decisions being taken by company IT has now been represented.

Lessons learned and advice for fellow CIOs

Always look forward to capture business details. Interact more with peers to get better insight of their functions and try to help them by providing low cost solution. Others in organization should see you as problem solver who dares and get it. To steer technology implementation, the buzz word is FOOL PROOF PLANNING. Go into smallest details, list down all micros and see that those are adhered to. Move from transactions to RELATIONSHIP, be it internal or external customer or partner.