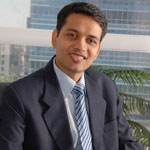 "With Generation Y becoming a larger part of the workforce, managing the traditional models of IT support and services is getting increasingly complex."

Mukul Jain
Sr. Vice President & Head – Information Technology
DLF Pramerica Life Insurance Co Ltd (DPLI)

Mukul is an accomplished senior IT leader with extensive experience in the BFSI Domain across Life Insurance, Banking and Loans. He is an expert in all aspects of IT covering Business Solution Delivery, IT Operations, Information Security, IT Governance, IT Architecture & Strategy, Infrastructure Management, Program Management, Outsourcing, Vendor Governance and Budgeting & Cost Rationalization.

Challenges in technology to meet enterprise needs in 2013 and expectations

The business environment is changing rapidly and is carrying a lot of risks and uncertainties. The key to business success in such volatility is agility and reach. Agility in terms of offering new products and services at a rapid pace in a model which is scalable and reach in terms of enhancing your supply chain to reach out to your distributors and customers spread far and wide while offering a unique, non-replicable customer experience.

The challenge is to leverage emerging technologies to provide differentiated services to varied customer sets. With lots of new technologies on the horizon and the landscape changing rapidly, the traditional IT mindset is facing multiple challenges. With Generation Y becoming a larger part of the workforce, managing the traditional models of IT support and services is getting increasingly complex.

Topping it all, the challenges of IT security in a world migrating to BYOA and BYOD, Cloud and mobility makes it exciting as well as complicated.

Solutions I look forward to are
• In such scenarios, the key expectation from the IT vendors is to focus on services rather than products and infrastructure. The current monolithic IT products need to be relooked and offered in such a way that organizations have the flexibility to pick up services and not to worry about the licenses, hardware and other related aspects. Thereby, becoming a part of the business organization itself.
• Standards for cloud application portability

The areas in business environment where solutions do not yet exist or not up to the mark, and which if existed, would've made job easier.

For a CIO, one of the key expectations is to enable the business with a stable and secure environment to function. And the key tenets, stability and security are of paramount importance in a financial services organization.

Stability of platform along with scalability of usage is a key challenge given the fact that most of the systems are off the shelf (OTS) platforms which have been customized to a large degree to suit the needs of the organization. This restricts the ability of platforms to adapt to new changes on an enterprise level hence posing a challenge to an organization's demand for agility and flexibility. More often than not, a platform which is a few versions old is hardly recognizable compared to the latest version because of high customization done on it.

This leads to a challenge that version upgrades can no longer be run on the earlier version and hence the organization is not able to derive the benefits of the latest enhancements done on the platform, leading to obsolescence of a platform.

Technology trends impacting enterprise business environment

One of the challenges of business is penetration/ reach and provides them with an experience which is equal to, if not better than a personal touch.

Mobility comes to the rescue in such cases. Mobility offers unique customer experience while deploying at a much lesser cost. With the advances made in telecom, mobility enables us to reach customers across the breadth of the landscape and provide them with products and services at a much reduced costs.

Mobility also enables the organization to get their partners and customers on a single platform, providing increased opportunities for cooperation and coherence.

My roles and responsibilities as a CIO

The way I see it is that a CIO is required to be more of a business manager rather than a technical guy who you reach out to when you have a technology problem. The CIO is expected to bring solutions to the organization after having a deep understanding of the business and the context in which it operates.

Lessons learned and advice for fellow CIOs

One of the things I have learned in my job is that there would always be new technologies and you will always be asked how do you plan to bring them into the organization. My belief is that one has to ensure that good sense and not blind faith in hype should prevail while making technology decisions strategic to the company. This will be done if you are keeping yourself abreast with the latest trends in your space.