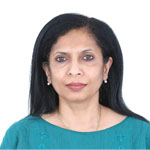 "Lead by Example– so that team respects and supports you. This helps the team to give their best for the growth of business."

Meenakshi Agrawal
VP - I T
Mumbai International Airport Limited (MIAL)

With 25 years of experience in Information Technology functions, strategic vision and commercially savvy business enablement, Meenakshi and her team set about reviewing the social media presence of the best airports around the world and have taken Mumbai Airport forward on many fronts which are favorable to the passengers.

Challenges in technology to meet enterprise needs in 2013 and expectations

Biggest challenge in the coming year is retaining good resources, because attracting and retaining good talent is essential for a successful IT. Mumbai Airport is going for a modernization project which should be ready to operate by the year end. Hence the coming year is filled with implementation and testing of new IT systems and solutions to cater to the demands of the new terminal. We are also going ahead with a Major IT Outsourcing project which involves assets and services management by a new vendor.

Challenges Include:
i. Ensuring Good IT Governance
ii. Properly Skilled Resource Availability
iii. Managing the Infrastructure, Applications and Services

The areas in business environment where solutions do not yet exist or not up to the mark, and which if existed, would've made job easier

Despite doing investments in the best technology for the campus network spanning many buildings, the risk is there every day when the cables being physically cut because of repair works by the contractors. This might bring the entire airport to a grinding halt. Finally we have to make sure that the fibres are laid safe or to have wireless bandwidth communications between buildings to eliminate this risk. This may be available but not yet robust enough to handle critical applications.

Technology trends impacting enterprise business environment

RFID Technologies/ Cloud/ Big Data

My roles and responsibilities as a CIO

The role has been changed from being a technology specialist to a "business-enabler". Understanding the business pain points and how the technology can help. Being a commercially savvy business enabler, knowing and understanding technology has now been taken for granted.

Lessons learned and advice for fellow CIOs

• A strong customer service attitude getting built into the IT team should be a priority for any CIO.
• A CIO must understand their business well and knowing technology itself is not sufficient.
• Having good, honest leadership style
• Lead by Example– so that team respects and supports you.

This helps the team to give their best for the growth of business.