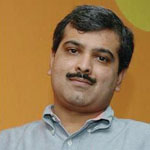 "Interact with vendors as well as with business on how some technologies can be applied for specific support within the company"

Manish Choksi
President– Home Improvement, Supply Chain & IT
Asian Paints

Manish joined Asian Paints in 1992 and has held various posts across Sales, Engineering, Marketing in the Decorative and Industrial paint businesses. Being the CIO, he has spearheaded the move to leverage new IT solutions across the extended enterprise for growth and achieving improved business performance.

Challenges in technology to meet enterprise needs in 2013 and expectations

Technology challenges for today clearly hinge on implementing mobility solutions, not for enterprise purpose but more for end consumers. One can build the apps using the Apple, Google or Android SDKs, if you want to change that app then there is no particular platform. One has to look at the consumer apps connected to enterprise and the real challenge here is cost to market time to market perspective for the enterprise.

Second, expectation in the business information, analytics, reporting as well as whole lot of front end visualization have taken a completely different course, with lot of the large end enterprise vendors clearly enable the space, as it is growing. For organizations, there is a bit of challenge on figuring out what is really the road map that they want to follow, for taking advantage of some of the newer inventions on Big Data or memory computing etc.
Cloud Computing Technologies and BYOD will help in enabling business continuity.

The areas in business environment where solutions do not yet exist or not up to the mark, and which if existed, would've made job easier

There are many smaller wide spaces around the extensions of applications, which enterprise want to use these applications is very challenging. For instance let's take Social Media- we would like to use it both for internal and external usage with the extended enterprise, but these offerings don't look as cool as Facebook and lot of employees wanting your feature to be speeded up when the consumer features get added. Innovation in the enterprise level is sort of not as big as it would be for the consumer application in that space and how do we bridge this gap is clearly what I see as an expectation that I would have from some of the newer technology solutions.

My roles and responsibilities as a CIO

I no longer look at IT alone, we have a new business for Asian paints called as Home improvement, I am the head of that business and I also now look after all of the coating supply chain, that reports into me. So, from a personal role, the role has grown significantly from being only head of corporate strategy and IT, to now taking on a line of businesses as well as the business responsibilities for both supply chain and for a technology perspective.

Lessons learned and advice for fellow CIOs

One of the important lessons that I have learnt is when we engage with new technology first, we have to check with the business and ensuring that business is sort of to/ be partner to do the implementation. This is an essential ingredient of success.

Second thing is job of the IT organization is to look at the technology trends and to look at what's happening new and to be able to figure out from interacting with vendors, as well as with business on how some of these technologies can be applied for specific support within the company.