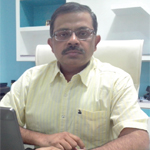 "Business leaders have started appreciating the involvement of CIO as an enabler, instead of being a provider of IT equipment and applications."

Jitendra Singh
CIO
HIL Limited
Jitendra has over 22 years of IT experience in management of Information Technology for Manufacturing Industries including Pharmaceutical, Retail, Automotive, Sugar, Building Material, Chemical and Power. Experience and exposure includes Creating and Implementing Strategic Roadmap for the organization, Project Management, Multi-location Software deployment and Validation, SAP implementation and support, IT Infrastructure Design and Implementation, Change Management, Process Improvement, best practices, & continuous improvements in business using IT. He is currently working with HIL Limited (a CK Birla Group Company), as CIO. The present role requires regular interaction with CEOs and Other Top Management Executives for enabling the business with IT initiative to drive better results.

Challenges in technology to meet enterprise needs in 2013 and expectations

The need for an enterprise is primarily dependent on the strategic business focus and the current state of automation in that particular organization. For us at HIL, the requirement is to make optimum use of data available through an effective BI solution and implementation of mobility solutions. Our wish list for 2013 would be BI, mobility and integration of transactional application with industrial automation (PLC etc.).

The biggest challenge even today remains the institutionalization of an application in an organization. Today most of the technology providers aim for a quick fix, short term solution, invariably losing focus on long term business benefits.

The areas in business environment where solutions do not yet exist or not up to the mark, and which if existed, would've made job easier

If the basic IT infrastructure and transactional applications are in place, supplemented with good monitoring mechanism, it can save you from keeping awake at night.

With the recent shift of organizational approach from being "solution-centric" to a "cost- effective solution- centric", the "proprietary vs open source" decision is a nightmare for any CIO today. While the proprietary solutions have a larger base and claim to be the best, open source solutions offer similar functionality at an abysmally low cost, but with an evident risk of branching out from the mainstream including the scarcity of resources.

Technology trends impacting enterprise business environment

With the organization already into transformational phase, it has become a necessity for us to use technology as an integral part of growth. With ERP and other basic requirements already in place, trends like big data, mobility solution and industrial automation are a priority for us, so that it can help HIL take advantage of information available from various sources and remain a leader in the market.

My roles and responsibilities as a CIO

It's been a major paradigm shift. From being an IT custodian who responds to the "requirements only", to a participant in business strategy and decisions who can suggest and add value to the business. Business leaders have started appreciating the involvement of CIO as an enabler, instead of being a provider of IT equipment and applications. At HIL, the alignment between Business Heads (CEO, CFO, CMO etc.) and CIO has already demonstrated productive improvements across the organization.

Advice for fellow CIOs

For technology related investments = DECIDE
For business related investments = ADVICE and SEEK DECISION.

Do not forget that the core is still the same expand your horizon, but don't lose the sight of your domain. 'You cannot claim to be an achiever if you're extraordinary in other curricular activities, but a failure in your main subject.'

Business leaders are looking at us for solutions to their concerns, not vice-versa. Therefore, understand the business, align your thought process with a "Business Aligned Technological Bend" instead of being "Technologically Aligned with some business focus". Participation is the key.